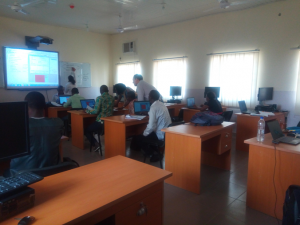 West African Science Service Centre on Climate Change and Adapted Land Use (WASCAL)
With funding from the German Federal Ministry of Education and Research (BMBF)
2021 Admissions into PhD Programme In
Climate Change and Human Habitat
FULL SCHOLARSHIP AVAILABLE
1.0 Introduction:
The Federal University of Technology, Minna (FUT Minna), Niger State, NIGERIA is pleased to call for application for its 2nd Batch of Doctoral Research Programme in Climate Change and Human Habitat) under the West African Science Service Centre on Climate Change and Adapted Land Use (WASCAL).
WASCAL is a wholly West African international organization with focus on academic and transdisciplinary research, building graduate-level scientific capacity and serving policy makers in West Africa with science-based advice on adaptation to climate change impacts and land use management. It cooperates with many agencies and universities in the region, providing a knowledge platform of excellence for its partners. WASCAL is funded by the Federal Ministry of Education and Research (BMBF), Germany and its 11 West African member countries, namely: Benin, Cabo Verde, Burkina Faso, Cote d'Ivoire, Ghana, Mali, Niger, Nigeria, Senegal, The Gambia and Togo
WASCAL's mission is to provide information and knowledge services at the local, national and regional levels to West African member countries to cope with the adverse impacts of climate change. We do this through capacity building support to young West African scholars in fields of climate, natural and social sciences and by strengthening the regional universities deliver climate and environmental services in member countries.
The Doctor of Philosophy in Climate Change and Human Habitat is designed to encourage cross-border collaboration in education and research aimed at addressing the impacts of climate change in West Africa in an integrated, cross-disciplinary and multi-sectoral manner, with focus on developing Sustainable Cities, specifically on Settlement Dynamics and Modelling; Housing and Green Space Management; Climate Change, Energy Systems and Settlements; Transport Planning and Sustainable Mobility; and Rural and Urban migration issues. This is a call for qualified candidates from the participating countries to apply for the WASCAL DRP (PhD) in Climate Change and Human Habitat for the 2020-2021 Academic Session.
2.0 Learning Outcomes
At the end of the 42 months programme, the graduates of the DRP in Climate Change and Human Habitat are expected to:
Demonstrate state-of-the-art expertise in their field of specialization;
Independently formulate and execute research in accordance with academic standards within their field of specialization, thus contributing to the body of knowledge in this field;
Develop and apply research techniques independently;
Convert knowledge of complex physical and biological processes into useful modelling concepts and apply this to real world situations;
Recognize, understand and apply new concepts as they emerge in the various related fields;
Translate scientific knowledge in their field of specialization into policy recommendations;
Show evidence of scholarship by presenting Ph.D. thesis and publishing at least one (1) article from the research in a reputable, high impact, international journal.
3.0 Student Eligibility
Applications are accepted from any of the eleven countries participating in WASCAL. Applicants should have the following requirements:
4.0 Academic Requirement:
(i) Five O' Level credit passes in Mathematics, English, Physics and any two of the following relevant subjects (Geography, Agricultural Science/Biology, Economics) or its equivalent in Francophone countries (i.e. hold preferably a Baccalaureate C or D).
(ii) First Degree (B.Tech. or B.Sc.) with a minimum of 2nd Class Upper Degree (or Assez Bien (B) for the Francophone applicants) from recognised academic institutions in any discipline related to the built environment or settlements (most especially Geography, Urban and Regional Planning, Building, Transportation Studies, Landscape Designers, Environmental Management, Climate Science, Estate Management).
(iii) Master's Degree graduates from a recognised University, but MUST be citizens from countries participating in WASCAL, in any discipline related to the environment (most especially Geography, Urban and Regional Planning, Building, Transportation Studies, Landscape Designers, Environmental Management, Climate Science, Estate Management).
(iv) Such Master degree must be of an average performance of "B" grade or weighted average of 60% or a minimum Cumulative Grade Point Average of 3.50.
(v) Applicants MUST possess basic knowledge and skills of GIS and remote sensing applications, with a minimum of B-grade in the transcript of either the Bachelor's or Master's degree.
(vi) Applicants should ensure that academic transcripts from items (ii) and (iii) and research interest/motivation are received before the selection process.
(vii) Candidates selected into the WASCAL funded PhD programme are on full time basis ONLY.
(viii) For Nigerian applicants, NYSC Certificate/Exemption is required.
(ix) Candidates must provide 3 referees, one of whom must be his/her Master's thesis Supervisor. If it is a WASCAL Alumnus, the Director's recommendation will be required as top priority;
**Female candidates are encouraged to apply.
5.0 Programme Duration
The programme duration for WASCAL CC & HH DRPs is 42 months, which comprises the following:
4 months of English/French language course in Ghana/Togo.
6 months of lectures to be completed within the first academic session of the study in FUT Minna (including submission of research proposal to Accra, Ghana), which must include a continuous assessment followed by an examinable component. Students MUST pass these courses. Any student whose CGPA falls below 3.0 at the end of the course, will be required to withdraw from the programme.
30 months of research and scientific field visits including a maximum of 6 months visit to Germany.
6 months preparation for final defense in FUT Minna. The final PhD oral defense takes place in the Postgraduate School.
6.0 Maximum Intake
The programme will support students with scholarships as well as accommodate fee-paying or self-financing students. An additional five (4) applicants with excellent results may also be selected provided they have evidence of sponsorship that is similar to WASCAL and have the ability to complete the programme within a period of 42 months.
7.0 Language Requirements
The program will be conducted in English. The following are the language requirements:
Basic Certificate in English Language;
Functional Certificate in English Language;
The programme would be conducted in English Language. Therefore, it is required that the francophone applicants MUST provide a certificate from a proficiency test in English language such as TOEFL (60% and above) or another well recognised proficiency test.
8.0 Scholarship and Research Support
The scholarship and research support will normally be provided based on the criteria below:
After admission, students will be required to maintain a graduate level Cumulative Grade Point Average (CGPA) of B or a minimum of B from the course;
During the course curriculum phase, students will be required to develop a detailed research program, including budget;
During the project/research stage, students are expected to present their progress reports regularly and will be evaluated accordingly.
All scholarship holding DRP fellows will receive a stipend every month to cover accommodation and other expenses for the duration of their study of forty two (42) months. Research support will also be made available to students after approval of their research budget by their advisor/supervisor and WASCAL. The candidates also have the option of spending three (3) to six (6) months in a German university to analyse their data, among others.
9.0 Outline of the Course
The programme shall run on a modularized system (course unit system); hence, course work is structured in seven (7) modules and shall be examined. Both practical and theoretical courses will be offered for the first six (6) months of the programme. These will be a combination of core courses that emphasize the focus of the program i.e. Climate Change and Human Habitat, as well as specialized options which will be electives selected based on the student's area of specialization.
The courses to be taken after appropriate documentation is completed include:
Urban and Rural Settlements in Africa, Radiative Transfer, Habitat Informatics I: Skills Development, Advanced Statistical and Geostatistics Techniques for Climate Science, Advanced Geographic Information Systems, Advanced Remote Sensing, Community Based Project (Fieldwork), Habitat Informatics II: Advanced Research Methodology, Applied Micrometeorology, Climate Change Adaptation and Mitigation, Settlements Dynamics and Modelling, Regional Climate System Modelling, Thinking Cities, Sustainable Settlements etc
Specialized Options (electives):
Landscape Ecology, Environmental Protection and Sustainability, Transport Planning and Sustainable Mobility, Housing and Green Spaces Management, Climate Change, Energy and Settlements.
Graduation Requirement
To be awarded a PhD in Climate Change and Human Habitat, candidates are required to pass all courses with a minimum of "B" Grade, being WASCAL standard, made up of the following:
Compulsory (Core) courses of 31 credit units
Elective courses of 9 credit units
Seminar of 2 credit units
PhD dissertation of 6 credit units.
No candidate shall be permitted to defend his/her dissertation unless all course work requirements are satisfied.
At least ONE paper from the dissertation MUST be published in a reputable journal before external examination can take place.
The final corrected version of the PhD dissertation MUST be re-submitted within three (3) months (90 days) from the date of oral defense.
The candidate who has satisfied these requirements (and others clearly stipulated in the PGS prospectus) and has passed an oral examination within the prescribed period of study shall have his/her work presented through Postgraduate School for Senate approval.
Employment Opportunities
Participants graduating from this multidisciplinary and multinational program will gain skills as scientific officers, managers of natural resources or academics. They are expected to be mostly employed, hence adding value to their places of employment such as in a variety of privately or publicly owned organizations and agencies whose principal focus involves the built environment (.i.e. settlements and their environs) as well as meteorological agencies; research institutions; overseas aid programmes; international NGOs; environmental protection agencies; Government Ministries, and Universities. If unemployed, they can also fine tune their skills in the afore mentioned areas.
Application Procedure and Contact
Candidates should please click on the link below to start the application process
Deadline for Submission of Application: June 30 2021
Notification of Selected Students: ONLYthe shortlisted students will be notified and invited for interview in due date to be determined. The mode (in-person, skype or telephone call) and actual date of interview will be communicated directly to the candidates, who are also expected to present the original hardcopies of the filled application form and all relevant documents and certificates for the interview.
Call or Whatsapp 07068359088, or Email: wascal_cchh@futminna.edu.ng on registration issues
This is a 5 minutes video for applicants on WASCAL CC&HH