ATLAS OF POTENTIAL FOR GREEN HYDROGEN IN AFRICA: A STUDY OF TECHNOLOGICAL, ECOLOGICAL AND SOCIO-ECONOMIC FEASIBILITY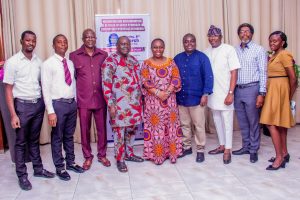 The H 2 ATLAS-AFRICA project is the beginning of cooperation between the Federal Ministry of Education and Research (BMBF) and African partners in the sub-Saharan region (SADC and ECOWAS countries) to explore the potential of green hydrogen production. https://www.h2atlas.de/de/ueber-uns.
The ECOWAS region's participation was coordinated by WASCAL with the GSP in FUT Minna coordinating the contribution of Nigeria in the research through data collection. The team of five was led by the Director of the Centre, Prof A. A. Okhimamhe (Professor of Geography with a specialization in Applied Remote Sensing in Geographical Sciences, including Climate Change). Other members include Prof Paulinus Ugwuoke (Professor of Physics and Director of Energy Research Centre, University of Nigeria, Nsukka), Dr. Ayodeji Balogun (Dept of Meteorology and Climate Science, FUT Akure), Dr. Ismail Zarma (Energy Commission of Nigeria, Abuja) and Jamil Momoh (Federal Ministry of Power, Abuja). Although COVID lockdowns affected movement, two workshops were organized to carry stakeholders along.
The data collection aspect ended with a two-day in-person closure workshop that was held between 7th – 9th March 2022. This workshop included the final validation of the results and the announcement of the completion of Green H2 in Nigeria. The publicity created was meant to foster stakeholders' interest. To that effect, a communique was published in Nigerian National Newspaper (The Nation), in addition to interviews on International News Channels of repute like Channels News and TVC News. The International Coordinator, Dr Solomon Agbo presented the Nigerian aspects of the Atlas, in the presence of the Nigerian Team members, representatives of Ministry of Power, Ministry of Environment, among others.